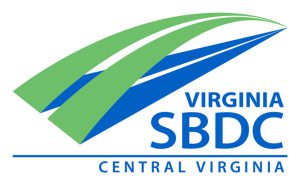 As of January 1, 2020, CIC is the host for the Central Virginia Small Business Development Center (CVSBDC). Located in Charlottesville, Virginia, the CVSNDC  is one of 29 centers across Virginia providing professional business consulting, training and information resources to help grow and strengthen Virginia businesses. The CVSBDC offers free business counseling services, assists with feasibility studies and business planning, sponsors seminars and training, and provides information and other services to area small and mid-sized businesses.

The CVSBDC serves the City of Charlottesville and the Counties of Albemarle, Fluvanna, Greene, Louisa, Nelson, and Orange. If you are outside of this region, visit our Statewide SBDC website for the SBDC nearest you. To schedule an appointment please visit our Request for Counseling page to fill out our Online Request for Counseling. Once the Online Request for Counseling has been submitted we will contact you to set up an appointment. Appointments are required for counseling and we now offer appointments in Louisa, Nelson, Orange, and Greene counties. The CV SBDC receives programmatic and financial support from the U. S. Small Business Administration, George Mason University, the Central Virginia Partnership for Economic Development, the University of Virginia, the City of Charlottesville, Albemarle County, Greene County, Louisa County, Nelson County, and Orange County. The Small Business Development Center (SBDC) is partially funded under a Cooperative Agreement with the U.S. Small Business Administration. All SBDC programs are nondiscriminatory and available to individuals with disabilities.

Contact the CVSBDC:
Phone: 434-295-8198
Email: sbdc@cvsbdc.org

Together we are strengthening our community.