Timothy Johnson: Entrepreneur Spotlight
April 6, 2022
What is Bald & Beautyful, LLC?
Founded and owned by Timothy Johnson, Bald and Beautyful, LLC creates quality and luxurious beard and skincare products that enhance your grooming and bathing experiences. 
At the moment they offer four (4) products:
Beard Wash (3 scents)
Beard Oil (2 scents)
Beard Balm (3 scents)
Daily Moisturizer w/SPF
The Bald & Beautyful, LLC Story
The idea for Bald and Beautyful, LLC came to Tim during the summer of 2021 while he and his wife, Jessica, were laying on the beach and enjoying the sun, near Savannah, GA. 
Tim shares, "When I'm in the sun for an extended period of time – I have to use sunscreen, especially on my bald head. I just don't like the smell of sunscreen, the white residue, and the chemicals used in store-bought sunscreen, sprays, and lotions."
He remembers complaining that he wished there was a daily moisturizer with SPF he could use on his bald head. A split second later, he said to his wife, "Babe, I think I can make my own moisturizer. I can't be the only bald guy who could use this product!! We should call it Bald and Beautyful." His wife was immediately all in, and the rest of his family couldn't have been more supportive.
After a few months, they had the moisturizer just like they wanted: all-natural, using only Shea Butter, Cocoa Butter, vitamin E, and just a little Zinc Oxide (an odorless, white powder that is naturally occurring in the mineral Zincite). They then started thinking about other holes in the market.
Tim has had a beard for a while but has never been fully satisfied with the beard products available on the market. He and his wife dove right into crafting beard washes, oils, and balms to accompany the moisturizer. These products can stand alone or work together to cleanse, nourish, condition, and style beards.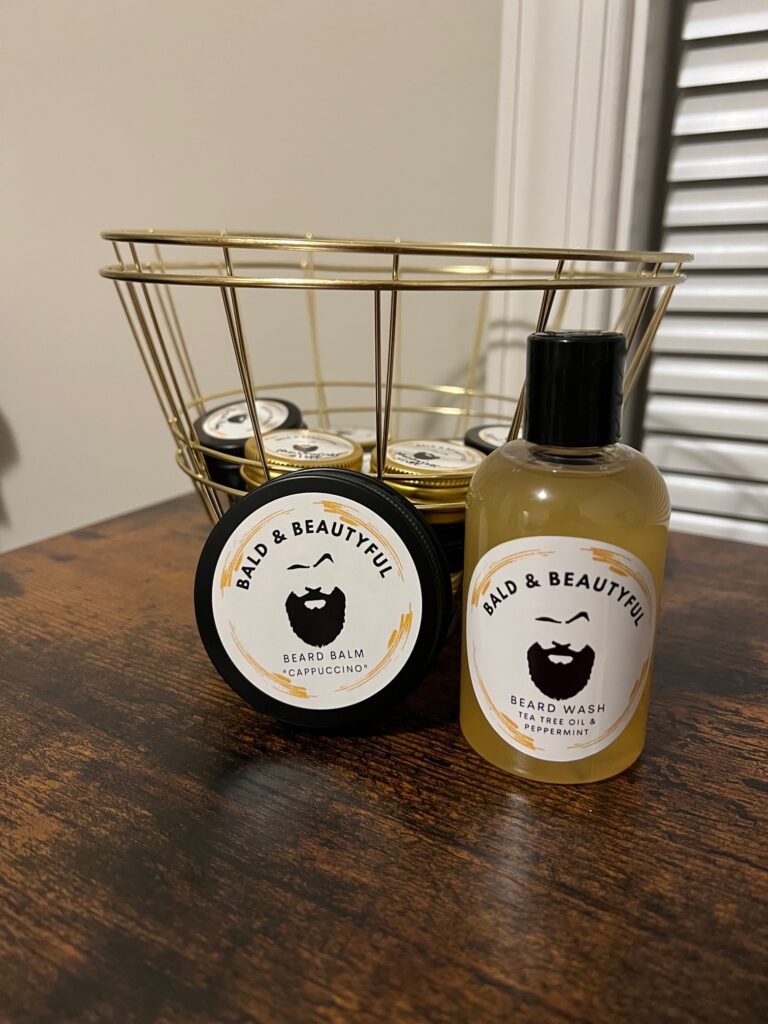 He wants his consumers to know that he started this company to find a solution to the problems he and many other people face. There are very few daily moisturizers with SPF for bald heads on the market, and while he has sported a beard for a few years now, he's struggled with dry skin, beard dandruff, and patchy spots.
The last seven (7) months have been hectic for him – conducting hours and hours of research, mixing sample batches, finding the right packaging, reaching out to contacts in the industry, and sending out test kits to friends. Despite the seemingly never ending tasks and long hours, he couldn't be happier with the growth of the brand. The personal bonus and motivation is that he believes his beard has never looked better!
Looking back on his transition from visionary to business owner, Tim reflects on his experience in CIC's 16-week Entrepreneur Workshop. "I can't thank CIC enough for how they have supported me and my business ventures over the last three years," Tim shares. "I actually took the Entrepreneur Workshop in the Spring of 2019 for another business (athletic training and development for young athletes). The class was like a mini MBA program, and I learned so much about how to run a business. Meeting so many people pursuing a business of their own instilled confidence in my journey. Without this class, I do not know if Bald and Beautyful would have become a reality. CIC continues to reach out to offer support–whether it is information about business loans, marketing, or networking events–the CIC family is always there to help out!"
Upcoming Events and Contact Info
Saturday, April 9 Vendor at Fluvanna Leaders for Race and Diversity Small Business Fair at Fluvanna High School from 10 am to 2 pm
Saturday, April 23 Vendor at Tom Tom Festival Farmer's Market & Entrepreneur Showcase – Downtown Charlottesville 8 am to noon
Website: www.baldandbeautyful.com